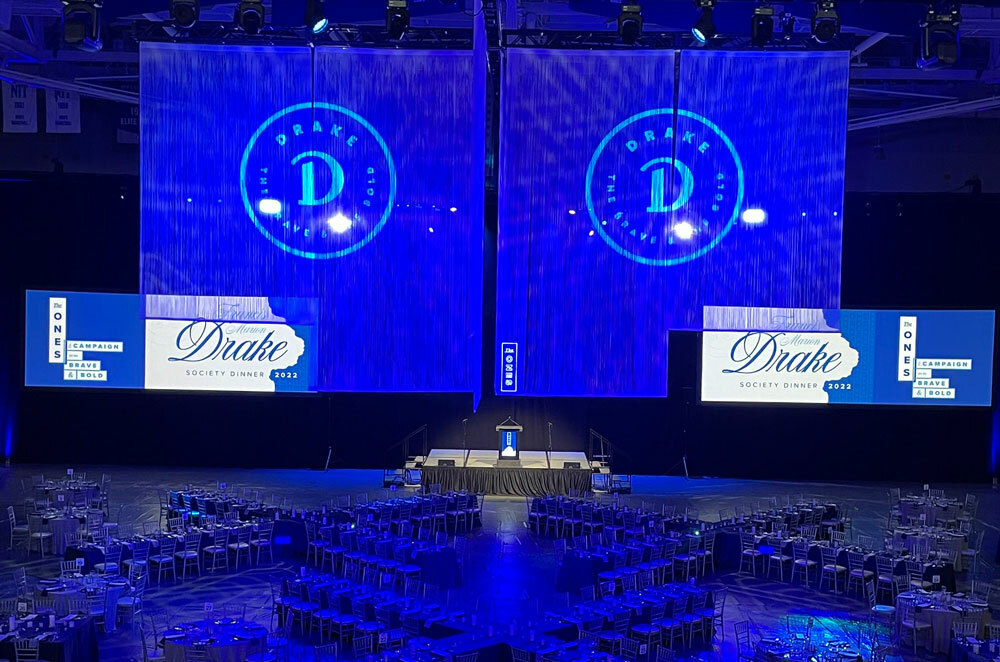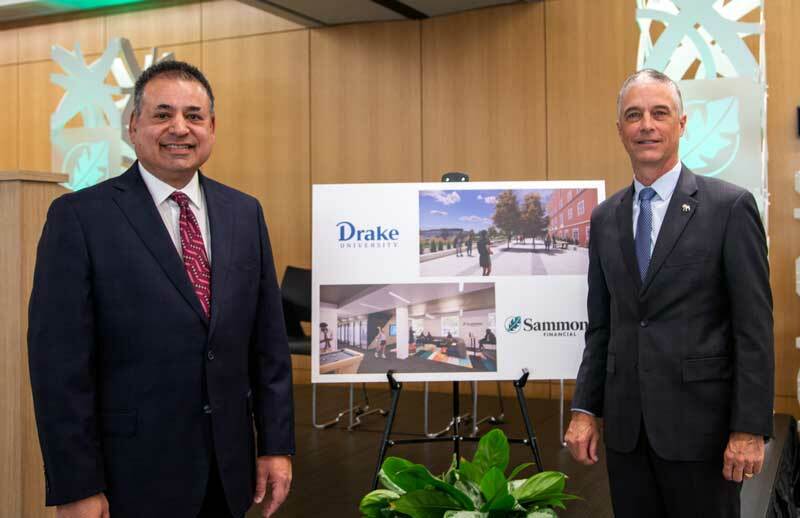 Earlier this fall, we gathered for the annual Francis Marion Drake Society Dinner for the first in-person celebration in three years. The evening provided the opportunity to connect with one another and recognize the generosity of donors like you. Your support has created tremendous momentum for The Ones: Drake's Campaign for the Brave & Bold, which shortly after the Francis Marion Drake Society dinner surpassed $150 million toward its $225 million goal. This ambitious campaign reimagines the future of Drake and builds on our strengths to meet the needs of our students and community in an evolving world.
President Marty Martin reflects on the powerful progress of The One's Campaign and admires the entire Drake community for their contributions to transforming lives and strengthening communities.
Student Alumni Association President Stephanie Kiel shares about her affinity for Drake University and the positive impact of the community she found here.
Drake is where it all started for many employees at Sammons Financial Group®, including Chairman & Chief Executive Officer Esfand Dinshaw. Now the company is investing in the next generation through an innovative partnership with Drake.
Sammons recently committed $3.15 million to Drake to support the development of the Sammons Intercultural Center and Sammons Plaza, along with support for two scholarship funds that will create a total of 14 endowed scholarships.
"As a financial services leader in the Des Moines area, it is incumbent upon our company to do all we can to invest in the next generation of business leaders," said Dinshaw, BN'82.
Drake will use $1.75 million of Sammons' gift to renovate and revitalize one of its most beautiful and historic buildings—Morehouse Hall. The 1930s building will be transformed from a classic residence hall to a dynamic student center that will include Drake's first dedicated intercultural space.
The Sammons Intercultural Center will have 2,700 square feet dedicated to celebrating diversity through student-centric community programming. A portion of the company's gift will also support the creation of a student-centered community outdoor area to be known as Sammons Plaza. The plaza will be a place for the Drake community to gather and build relationships that are central to the university experience.
"We are proud to help support the creation of a dedicated space for the campus' many multicultural organizations, which is centered around workforce development, D&I initiatives, and increasing community and campus engagement." said Esfand.
Sammons will use the remaining $1.4 million of its gift to advance two scholarship programs that will create a total of 14 endowed scholarships—the Sammons Financial Group Changemaker Scholarship and the Sammons Financial Group Inclusive Scholars of Digital Proficiency Scholarship.
"We are incredibly grateful to have such strong relationships with central Iowa businesses like Sammons Financial Group who share in our belief that together we transform lives and strengthen communities," said Drake University President Marty Martin. "This gift will help to develop the next generation of purpose-driven, ethical leaders who go forth to be The Ones to make a positive difference in the world."